Description
DELL VOSTRO DESKTOP 3671 i3 9th GENERATION (i3-9100/4GB RAM/1TB HDD/WIFI+BLUETOOTH/DOS)   
[ VOS-3671-00003-BLK ]
Performance workhorse
Packed with power: Blast through your workload quickly and efficiently with up to 9th Gen Intel® Core™ i7 processors and up to 16GB DDR4 2666 MHz memory. With six cores, your performance gets a serious boost and you can do more at once in less time.
More multi-tasking: Run multiple apps faster and enjoy sharp, high-quality visuals on everything from PowerPoint presentations to video edits with up to 2GB GDDR5 NVIDIA® GeForce® GTX 1030 Ti graphics.
Easy expansion: Get up to 2TB of solid state storage for easy access to all the files, photos and videos you need. For enhanced performance, add up to 512GB PCIe M.2 SSD or choose dual drives so you can run more programs at once without sacrificing speed.Supports up to 4GB GDDR5 NVIDIA GeForce GTX 1050 Ti graphics.
Desk-friendly design
Cool factor: The unique mesh design on the front of the system incorporates additional vents, for reduced dust, faster cooling and an overall improvement in performance. Color options vary by region.
Space saver: With a small footprint, the Vostro tower leaves plenty of desk space open while keeping ports within easy reach.
Seamless security
Encryption de-mystified: Enjoy commercial-grade security including Hardware TPM 2.0—hardware protection and storage for encryption keys that verify your device as unique and trusted.
Restricted access: Be assured that unauthorized users aren't accessing your systems thanks to Bitlocker, offering options for multi-factor authentication and system lock-down without the appropriate personal identification number (PIN).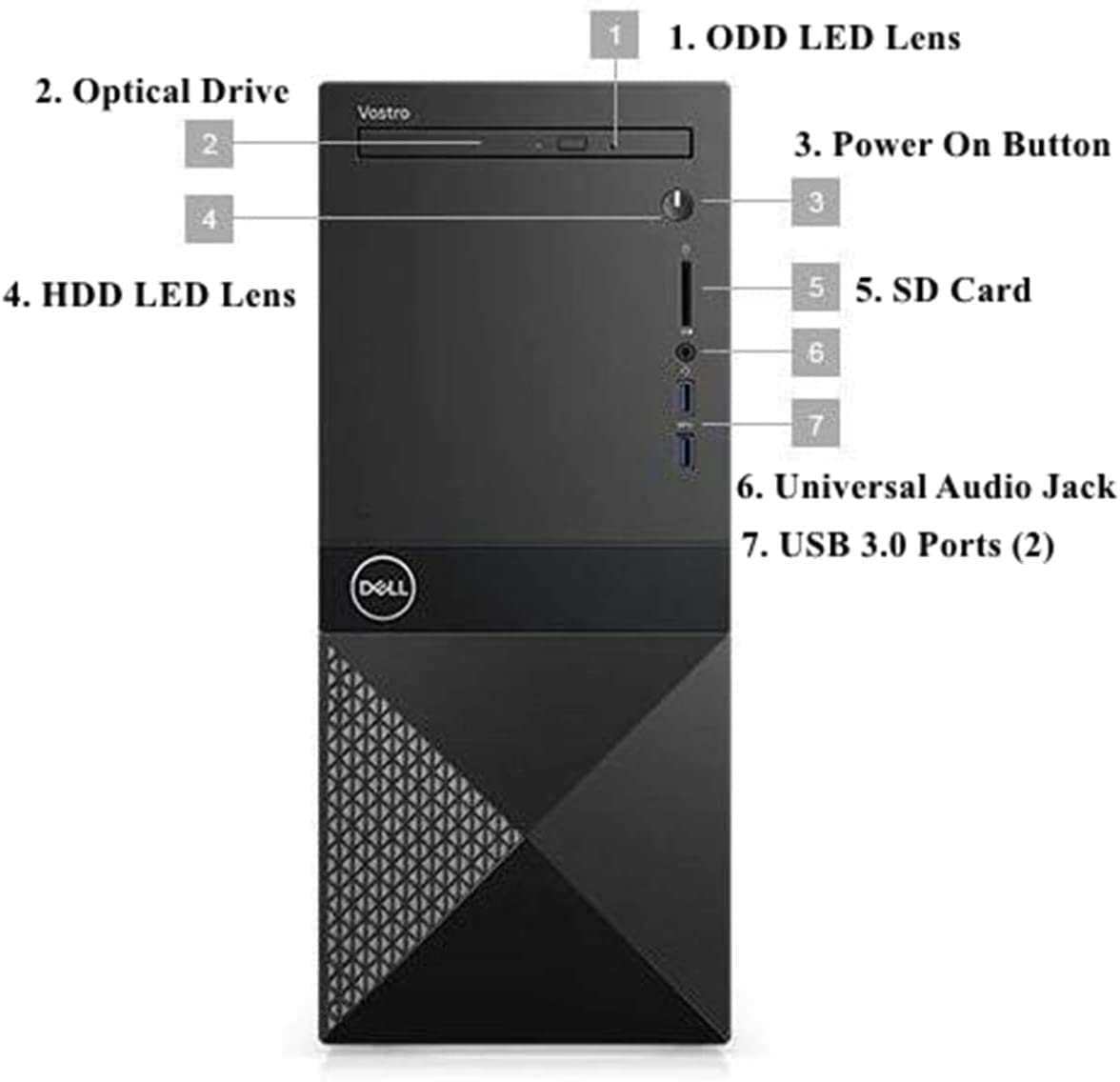 Ports & Slots
1. ODD LED Lens | 2. Optical Drive | 3. Power On Button | 4. HDD LED Lens | 5. SD Card | 6. Universal Audio Jack | 7. USB 3.0 Ports (2) | 8. Line In/Out | 9. HDMI | 10. VGA Connector | 11. USB 2.0 Ports (4) | 12. Gigabit Ethernet | 13. Expansion Slots (4) | 14. Security Cable Slot | 15. Power Supply Unit
Dimensions & Weight
1. Width: 160mm (6.3″) | 2. Depth: 289.4mm (11.39″) | 3. Height: 373.7mm (14.71″) | Starting weight: 5.9kg (13lbs)*
Technical Specifications:
Processor
Intel 9th Generation Core i3-9100 (8 MB Cache, 4 cores, 4 thread, 65 W, 3.6 GHz (up to 4.2 GHz)    Intel UHD Graphics 630 with shared graphics memory
Feature    Specifications
Height    14.7 inch (373.7 mm)
Width    6.3 inch (160 mm)
Depth    11.4 inch (289.4 mm)
Weight    13.01 lb (5.9 kg)
Memory specifications 
Feature    Specifications
Minimum memory configuration    4 GB
Maximum memory configuration    32 GB
Number of slots    2
Maximum memory supported per slot    •    Slot configuration1: 4 GB
•    Slot configuration2: 8 GB
•    Slot configuration3: 16 GB
Memory options    •    4 GB (4 GB x 1)
NOTE: : The memory modules are customer replaceable units (CRU), and it can be upgraded.
Type    Dual-channel DDR4
Speed    •    Speed Configuration1: Intel 9th Generation i5/i7 is 2666 MHz
•    Speed Configuration2: Intel 9th Generation i3/Intel Pentium Gold/Intel Celeron is 2400MHz
Communications
Ethernet
Description    Values
Model number    REALTEK RTL8111H PCI-e Gigabit ethernet controller
Transfer rate    10/100/1000
Wireless module
Description    Values
Model number    Qualcomm DW1707
Transfer rate    Up to 150 Mbps
Frequency bands supported    2.4 GHz
Wireless standards    WiFi 802.11b/g/n
Wi-Fi 4 (WiFi 802.11n)
Encryption    •    64-bit/128-bit WEP
•    AES-CCMP
•    TKIP
Bluetooth    Bluetooth 4.0
Video
Integrated graphics
Controller    External display support    Memory size    Processor
Intel UHD 630 Graphics    One HDMI 1.4b port    Shared system memory    9th Generation Intel Core i3
Storage
Your computer supports one of the following configurations:
•    One 3.5-inch hard-drive.
•    One M.2 2230/2280 NVMe solid-state drive.
•    One 3.5-inch hard-drive and one M.2 2230/2280 NVMe solid-state drive.
•    One 3.5-inch hard-drive, one M.2 2230/2280 NVMe solid-state drive, and one or two 2.5-inch hard-drive.
•    The primary drive of your computer varies with the storage configuration. With a M.2 drive, the M.2 drive is the primary drive, and for computers without a M.2 drive, the 3.5-inch hard drive is the primary drive.
Storage specifications
Storage type    Interface type    Capacity
One 3.5-inch hard drive    SATA AHCI, up to 6 Gbps
Two 2.5-inch hard drives    SATA AHCI, up to 6 Gbps
One M.2 2280 solid-state drive    PCIe Gen3.0x2 NVMe, up to 16 Gbps
One 9.5 mm slimline DVD-RW drive    SATA AHCI, up to 1.5 Gbps
System board connectors
Feature    Specifications
M.2 Connectors    M.2 2230/2280 for M.2 PCIe SSD/Wireless (optional)
Serial ATA (SATA) connector    4 SATA 3.0 ports (Up to 6Gb/s)
PCIe X16 slot    PCIe X16 (1)
PCIe X1 slot    PCIe X1 (2)
PCI    PCI (1)
NOTE: : PCI slot support on TPM sku
Power supply
Feature    Specifications
Input Voltage    100–240 VAC, 50–60 Hz
Wattage    •    290 W PSU (APFC Full range)
•    290 W PSU (EPA Bronze)
Security hardware
Feature    Specifications
Security HW    •    Data wipe via BIOS (Secure Erase)
•    Support of Computrace BIOS agent – supports both Computrace and Proactive Systems Management
•    Discrete TPM 2.0 (optional)