3LCD Technology
All Epson projectors are based on 3-chip LCD technology for amazing colour, incredible detail and solid reliability. 3LCD's 3-chip architecture dedicates an entire chip to process each primary colour – red, green and blue, continuously. Unlike single-chip technology that delivers colour sequentially, you get full-time colour. The result is vibrant, realistic images and video all delivered with 3LCD's true-to-life colour.

Up to 3x Brighter Colours with Epson Projectors*
Epson projectors use 3LCD Engines that have no colour wheel with a white segment and therefore don't force a trade-off between white and colour brightness. In fact, Epson projectors have up to 3x Brighter Colours than their leading competitive 1-chip DLP projectors*. If you are looking for business and education projectors or 720p home entertainment projectors, know that choosing Epson projectors means up to 3x brighter colours. If you are looking for 1080p home entertainment projectors, you consistently get 2x and up to 3x Brighter Colours than competitor 1-chip DLP projectors*.All Epson projectors list both White Brightness and Colour Brightness specifications, and all have high Colour Brightness.
*Colour brightness (colour light output) in brightest mode, measured by a third-party lab in accordance with IDMS 15.4. Colour brightness will vary depending on usage conditions. Top-selling Epson 3LCD projectors versus top-selling 1-chip DLP projectors based on NPD sales data for May 2017 – April 2018.
High brightness
Even though its compact size enables it to be carried from room to room, the EB-40 projector is capable of highly visible images thanks to its high brightness (up to 3,600lm) and superior 15,000:1 contrast ratio. Room lights don't have to be dimmed to see bright and clearly projected images, allowing meeting participants to concentrate better for improved productivity.

Epson iProjection App
Display and control content from your iPhone
®
, iPad
®
 or iPod touch
®
, Android™ and Chrome devices with the Epson iProjection App. This free application allows you to travel light and present from your mobile device. Just turn on the projector, use Epson iProjection to scan the on-screen QR code, and share content on the big screen. (An optional ELPAP10 Wireless LAN unit is required for the EB-S41 and EB-X41).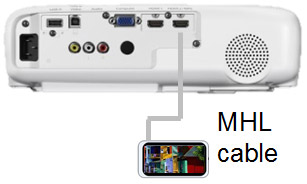 HDMI connectivity and MHL
Get both audio and brilliant HD video content with just one cable that can connect with the latest laptops, Blu-ray Disc
®
, media players and MHL-enabled devices. The EB-40 series enables you to display content from MHL-enabled smartphones and tablets, as well as charge your MHL-enabled device when it's connected to the projector. (MHL connectivity only available with EB-W42 and EB-U42).
USB Plug 'n Play
Epson's advanced 3 in 1 USB connectivity enables instant Plug 'n Play setup for Video, Audio and Control. Forget about complicated computer key sequences and non-intuitive controls. Instead, just plug in a standard USB cable and let your presentation impress the audience.

Low Cost of Ownership
With both filter and lamp life in ECO mode of 10,000 hours, it is now easier and more economical than ever to run our entry level projectors. The new EB-40 Series also includes a new reduced lamp price which, along with the High Efficiency Filter, allows for a hassle free maintenance.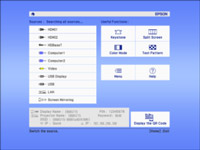 New home screen
New home screen offers quick and easy access to a variety of useful functions. Also, all source information, no matter what the source input is, can be seen at a glance. Wireless connections can be made easily because all the information you need is right there on the screen.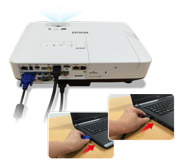 Quick, convenient control
The EB-40 Series is easier to control than ever through its Auto Power On feature. There is no need to turn on the power using the remote control or the power button on the projector itself because start-up is activated with cable insertion.With Sleep Mode (A/V Mute) you can pause your presentation or movie without turning the projector off. The projector also enables you to quickly power down, pack up and go with its Instant Off
®
 feature, allowing you to control your projector with the flip of a switch.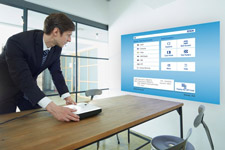 Easy image adjustments with auto vertical correction
Position your projector almost anywhere in the room and still get a correctly proportioned image with auto vertical correction and horizontal slide image correction. Being able to adjust the image easily and quickly, even in a limited space, makes the EB-40 series perfect for narrow spaces, such as on a desk.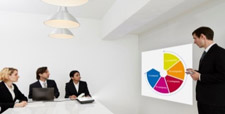 Shorter throw distance
The short throw ratio means you can project onto a large screen even in small spaces eliminating concern about where presentations can be made.

Carry Case
The EB-40 Series also comes with a stylish carry case making the switch between home and work even more convenient.