Dell 4350 Projector, 4000 Lumens, 3D Ready, Resolution 1080p -HDMI, Ethernet Port, VGA Ports, Wireless Display – 4000 Hours Normal
Out of stock
Highlights
The Dell 4350 Projector is a 1080P Conference Room Projector. This lamp based projector is capable of displaying 4,000 Lumens at its brightest setting with a native resolution of 1920×1080 , and is 3D capable. The internal DLP technology touts higher contrast, less visible pixels and more portability. This projector was first available for purchase in December 2015 and has been  by Dell.
Description
Dell Projector – 4350
Illuminate your ideas.

Bring brilliant presentations to life on the Dell Projector 4350. Featuring Full HD (1920 x 1080) resolution, flexible wireless connectivity and remote management for seamless collaboration. 


Clear, crisp clarity:

 

Dazzle your audience with bright, vibrant projections, crystal-clear images and easy, precise viewing.
Adaptable connectivity:

 

Easily connect to a wide variety of smart devices.
User-friendly features:

 

A convenient, one-of-a-kind concealed compartment keeps your wireless dongle safe and secure.
Vivid, powerful projections
Let your ideas shine and keep your audience captivated with Full HD 1920×1080 resolution for crisp, clear projections and 4,000 lumens of high-performance lighting.


Easy, accurate viewing:
The 16:9 screen aspect ratio creates a wider image, allowing easier viewing and ensures accurate images by mimicking a connected device's aspect.
Size matters:
Mesmerize any meeting with an impressive diagonal projection size – perfect for the conference room wall or whiteboard.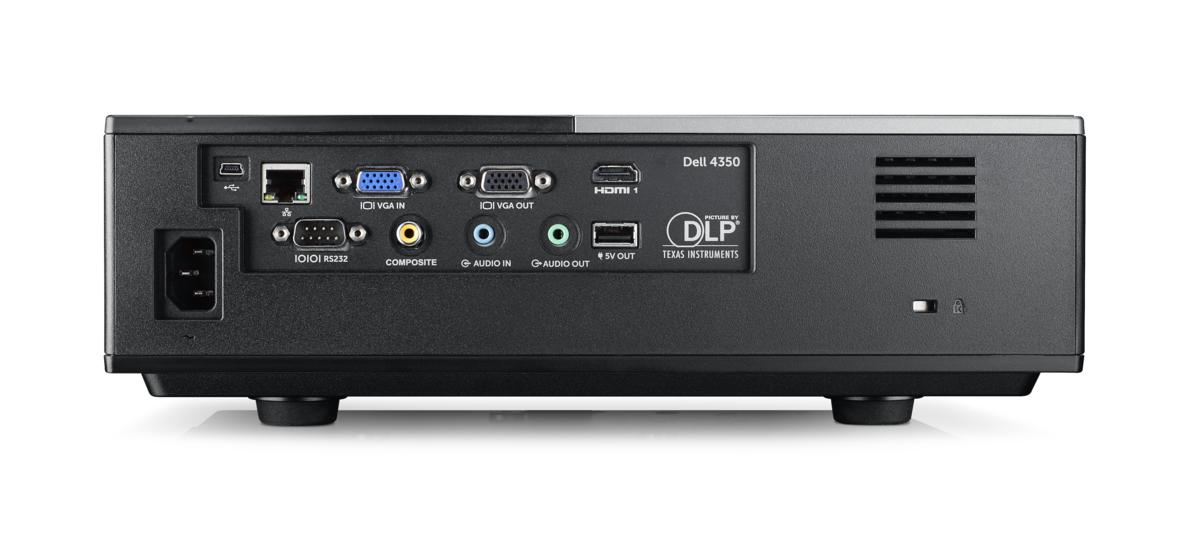 Versatile connectivity
Designed to adapt around you:
The 4350 projector adapts to your preferred wireless device. Concealed HDMI and powered USB ports let you decide what wireless dongle to install and use.
Easy installation:
Equipped with HDMI, VGA and composite video connectors, making installations in existing environments is a breeze.
Smart device support:
Multiple ports allow for easy connection to numerous platforms including UltraBooks, notebooks, ChromeBooks and tablets.
Convenient features
Concealed for your convenience:
The unique concealed compartment keeps your preferred wireless dongle out of harm's way.
Remote access:
An RS232 port caters to remote manageability and the RJ45 connection supports remote management via a LAN network.
Quick Comparison
Settings
Dell 4350 Projector, 4000 Lumens, 3D Ready, Resolution 1080p -HDMI, Ethernet Port, VGA Ports, Wireless Display - 4000 Hours Normal

remove

APC SRT 1000KVA Smart-UPS - 1000KVA Black

remove

Epson EpiqVision Flex CO-W01 Portable Projector, 3-Chip 3LCD, Widescreen, 3,000 Lumens Color/White Brightness, 5 W Speaker, 300-Inch Home Entertainment and Work, Streaming Ready

remove

Mercury Elite 850va Pro Line Interactive UPS - Black

remove

Mercury Elite 1200 Pro Line Interactive UPS - Black

remove

Solid UPS 1200VA Backup UPS

remove

Name
Dell 4350 Projector, 4000 Lumens, 3D Ready, Resolution 1080p -HDMI, Ethernet Port, VGA Ports, Wireless Display - 4000 Hours Normal

remove

APC SRT 1000KVA Smart-UPS - 1000KVA Black

remove

Epson EpiqVision Flex CO-W01 Portable Projector, 3-Chip 3LCD, Widescreen, 3,000 Lumens Color/White Brightness, 5 W Speaker, 300-Inch Home Entertainment and Work, Streaming Ready

remove

Mercury Elite 850va Pro Line Interactive UPS - Black

remove

Mercury Elite 1200 Pro Line Interactive UPS - Black

remove

Solid UPS 1200VA Backup UPS

remove

Image
SKU
DELL4350
UPSL1KTO9CNAFAMZ
EPSONCO-WO1
Mercury 850 Elite Pro Line
Mercury 1200 Elite Pro
SolidUPS200VA
Rating
Price

₵

6,500.00

₵

4,500.00

₵

5,900.00

₵

950.00

₵

1,280.00

₵

1,100.00
Stock

Out of stock

Out of stock

In Stock

In Stock

In Stock

In Stock

Availability
Out of stock
Out of stock
In Stock
In Stock
In Stock
In Stock
Add to cart
Description

Highlights

The Dell 4350 Projector is a 1080P Conference Room Projector. This lamp based projector is capable of displaying 4,000 Lumens at its brightest setting with a native resolution of 1920x1080 , and is 3D capable. The internal DLP technology touts higher contrast, less visible pixels and more portability. This projector was first available for purchase in December 2015 and has been  by Dell.

KEY FEATURES

Condition: New

LCD Display
Superior Quality
Effective & Reliable
Inverter 1000 VA Smart-UPS LCD 230V

KEY FEATURES

Brightness: 3,000 Lumens
reate the big screen experience From box sets to business presentations, capture everyone's attention
Bright even with ambient light Equally high White and Colour Light Output of 3,000 lumens
Affordable, high-tech equipment Enjoy this WXGA projector
Long-lasting solution 18 years' worth of entertainment²
Portable and quick to set up Easy set up with keystone slider for perfect alignment

KEY FEATURES

Input Voltage: 220VAC
Rating Output: 850VA
PowerCord: Built-in Cable with Fuse
auto restart
built in avr
overload and short circuit protectgion

KEY FEATURES

Input Voltage: 220VAC
Rating Output: 1200VA
Backup Time - Typical: 30mins~40mins
PowerCord: Built-in Cable with Fuse
Battery Mode: 50Hz±1Hz

Key Features

Solid UPS 1200VA
Phase: Single + GND
Voltage Range: 162v-295v / 145v-295v (optional) 80v - 150v
Frequency: 50 Hz/ 60 Hz±10%
Wave form: Pure sine wave (main mode), Simulated sine wave (battery mode)
Crest Factor: 3:1
Noise Filtering EMI/RFI: full time suppression
Transfer time: ≤ 10ms
Battery Recharge time: 8 hr
Battery type: Sealed Lead-acid maintenance free

Content

Dell Projector - 4350

Illuminate your ideas.
Bring brilliant presentations to life on the Dell Projector 4350. Featuring Full HD (1920 x 1080) resolution, flexible wireless connectivity and remote management for seamless collaboration. 



Clear, crisp clarity:

 

Dazzle your audience with bright, vibrant projections, crystal-clear images and easy, precise viewing.
Adaptable connectivity:

 

Easily connect to a wide variety of smart devices.
User-friendly features:

 

A convenient, one-of-a-kind concealed compartment keeps your wireless dongle safe and secure.

 

Vivid, powerful projections

Let your ideas shine and keep your audience captivated with Full HD 1920x1080 resolution for crisp, clear projections and 4,000 lumens of high-performance lighting.

Easy, accurate viewing:

 

The 16:9 screen aspect ratio creates a wider image, allowing easier viewing and ensures accurate images by mimicking a connected device's aspect.

Size matters:

 

Mesmerize any meeting with an impressive diagonal projection size – perfect for the conference room wall or whiteboard.

Versatile connectivity

Designed to adapt around you:

 

The 4350 projector adapts to your preferred wireless device. Concealed HDMI and powered USB ports let you decide what wireless dongle to install and use.

Easy installation:

 

Equipped with HDMI, VGA and composite video connectors, making installations in existing environments is a breeze.

Smart device support:

 

Multiple ports allow for easy connection to numerous platforms including UltraBooks, notebooks, ChromeBooks and tablets.

Convenient features

Concealed for your convenience:

 

The unique concealed compartment keeps your preferred wireless dongle out of harm's way.

Remote access:

 

An RS232 port caters to remote manageability and the RJ45 connection supports remote management via a LAN network.

The Smart-UPS On-Line range from APC offers very advanced technology  that means, for the user, high-level dependability, extended system availability, easy manageability and in most cases, valuable scaleability. The APC SRT 1000VA Smart-UPS brings these great benefits of the high-tech APC brand, as well as a string of special features of the APC Smart-UPS, such as: 10/100 BaseT Connection - Connect the device to a network using a 10 or 100 BaseT connection. Battery failure notification - Provides early-warning fault analysis on batteries enabling timely preventive maintenance Green mode - Patent-pending operating mode that bypasses unused electrical components in good power conditions to achieve very high operating efficiency without sacrificing any protection. LCD graphics display - Text and mimic diagrams that display modes of operation, system parameters and alarms. SPECIFICATIONS

Durable
LCD Display
Superior Quality
Effective & Reliable
Inverter 1000 VA Smart-UPS LCD 230V

Display Stunning Images up to 300" — Widescreen picture four times larger than a 75" flat panel delivers an immersive experience for business presentations, home viewing and beyond.
Compact Design — Sleek, lightweight design easily fits in backpacks for easy portability on the go.
Ultra Bright Images — 3,000 lumens of color and white brightness (1) deliver outstanding-quality images in a variety of lighting conditions.
Best-in-Class Color Brightness (2) — Advanced 3-chip 3LCD technology displays 100% of the RGB color signal for every frame, allowing for outstanding color accuracy while maintaining excellent color brightness without any distracting "rainbowing" or "color brightness" issues seen with other projection technologies.
Compatible with Streaming — Connect your preferred streaming solution, such as an Apple TV, Roku, Amazon Fire TV or Android TV (3), to the built-in HDMI port to start streaming your favorite content—easy!
Built-in Speaker — Ideal for business presentations and watching movies
Versatile for Virtual Meetings and Learning — Enhance meetings and learning at home with detailed, life-sized images perfect for Zoom calls and Microsoft Teams video conferencing; enjoy virtual hangouts with friends and family like they are in the room with you.

Stunning 300" Picture

 

Compact, Portable Design

 

Ultra Bright Picture

 

3-Chip 3LCD Technology

 

Streaming Compatible

Compare Epson Projectors

| | | | | | |
| --- | --- | --- | --- | --- | --- |
| | CO-W01 | CO-FH02 | HC2350 | EX3280 | Pro EX7280 |
| | 1280 x 800 (16:10, WXGA) | 1920 x 1080 (16:9, Full HD) | 3840 x 2160 (16:9, 4K Pro-UHD) | 1024 x 768 (4:3, XGA) | 1280 x 800 (16:10, WXGA) |
| | 3,000/3,000 lumens | 3,000/3,000 lumens | 2,800/2,800 lumens | 3,600/3,600 lumens | 4,000/4,000 lumens |
| | 5 W | 5 W with enclosure | 10 W | 2 W | 2 W |
| | – | Android TV | Android TV | – | – |
| | Manual | Auto (Vertical) | Auto (Vertical) | Manual | Auto (Vertical) |
| | 11.6" x 8.3" x 3.4" | 12.5" x 8.3" x 3.4" | 13.1" x 10.8" x 4.8" | 11.9" x 9.3" x 3.2" | 11.9" x 9.3" x 3.2" |
| | 5.3 lb | 5.7 lb | 9.0 lb | 5.2 lb | 5.7 lb |

Buy the Mercury 850 Elite Pro Line Interactive UPS from Jayke Computers and have it delivered right at your doorstep. The 850va  output Mercury Elite Pro Line Interactive UPS is a fairly robust unit for regular office or home appliances, including computers, printers, TVs, home entertainment systems, etc. The Mercury UPS range is trusted for superior performance, in the affordable price range. The Mercury Elite 850 Pro Line Interactive UPS is an advanced UPS design, with built-in AVR (automatic voltage regulator) to withstand the power voltage fluctuations that are common with our power supply.Other built-in protection measures to safeguard your appliances and also ensure the durability of the UPS include: overload protection, short-circuit protection, deep battery discharge protection and battery overcharge protection. SPECIFICATIONS Input

Input Voltage: 220VAC
Input Frequency: 50Hz
Input Phase: Single Phase
PowerCord: Built-in Cable with Fuse
Input Voltage Range: 140~300VAC

Output

Rating Output: 1500VA
Wave Form: Battery Mode(Simulated sine Wave)
Rating Voltage: 220V
Output Range: 220VAC - 11% to + 17% (Battery Mode)
Rear Output Socket: 4x Universal - Battery Backup
Transfer Time: Typical 4-8ms
Rating Frequency: 50Hz
Line Mode: Synchronize with the Utility
Battery Mode: 50Hz±1Hz

Short Circuit Protection .

Line Mode: FUSE & Firmware Protection
Battery Mode: Firmware Protection

Overload Protection .

Line Mode: 110%±5% (go to fault mode after 5 minutes)
120%±5% (go to fault mode immediately)
Battery Mode: 85%±5% (shut down after 5 seconds), 100%±5% (shut down immediately)

Battery and Runtime

Rating: 2x12V/8.2AH
Backup Time - Typical: 30mins~40mins (Depending On Load)
Charging Current: About 1A at Normal Mode
OverCharge Protection: 29V±0.2V(Stop Charging)

Buy Mercury 1200 Elite Pro Line Interactive UPS from Jayke Computers and have it delivered right at your doorstep.

The 1200va (1kva) output Mercury Elite Pro Line Interactive UPS is a fairly robust unit for regukar office or home appliances, including computers, printers, TVs, home entertainment systems, etc. The Mercury UPS range is trusted for superior performance, in the affordable price range. The Mercury Elite 1200 Pro Line Interactive UPS is an advanced UPS design, with built-in AVR (automatic voltage regulator) to withstand the power voltage fluctuations that are common with our power supply.Other built-in protection measures to safeguard your appliances and also ensure the durability of the UPS include: overload protection, short-circuit protection, deep battery discharge protection and battery overcharge protection. The Mercury Elite 1200 Pro can support up to 900 W power output requirement. Backup time will depend on load, but up to 60 minutes is possible from this UPS.

SPECIFICATIONS Input

Input Voltage: 220VAC
Input Frequency: 50Hz
Input Phase: Single Phase
PowerCord: Built-in Cable with Fuse
Input Voltage Range: 140~300VAC

Output

Rating Output: 1200VA
Wave Form: Battery Mode(Simulated sine Wave)
Rating Voltage: 220V
Output Range: 220VAC - 11% to + 17% (Battery Mode)
Rear Output Socket: 4x Universal - Battery Backup
Transfer Time: Typical 4-8ms
Rating Frequency: 50Hz
Line Mode: Synchronize with the Utility
Battery Mode: 50Hz±1Hz

Short Circuit Protection 

.

Line Mode: FUSE & Firmware Protection
Battery Mode: Firmware Protection

Overload Protection 

.

Line Mode: 110%±5% (go to fault mode after 5 minutes)
120%±5% (go to fault mode immediately)
Battery Mode: 85%±5% (shut down after 5 seconds), 100%±5% (shut down immediately)

Battery and Runtime

Rating: 2x12V/8.2AH
Backup Time - Typical: 30mins~40mins (Depending On Load)
Charging Current: About 1A at Normal Mode
OverCharge Protection: 29V±0.2V(Stop Charging)

Product Specifications

Provides fully regulated AC output for home/office workstations, media centers and home entertainment systems
Audible alarm signals loss of utility power or low battery
8 C13 outlets—2 surge-only
C14 inlet accepts user-supplied AC power cord with country-specific plug
455-joule surge suppression rating Reliable Battery Backup
Supports half load up to 10 min.
Powers entry-level PC up to 90 min.
Internal batteries designed for hot-swap field replacement
95% line-power efficiency rating saves money in energy cost

Key Features

Built-in AVR
Wide input voltage range
Intelligent battery management
Power-on self test
Automatic Charging in OFF Mode

Weight
N/A
N/A
N/A
N/A
N/A
N/A
Dimensions
N/A
N/A
N/A
N/A
N/A
N/A
Additional information